TearUp Events - TearUp the Finger Lakes 2020 (May)
CANCELLED
Due to COVID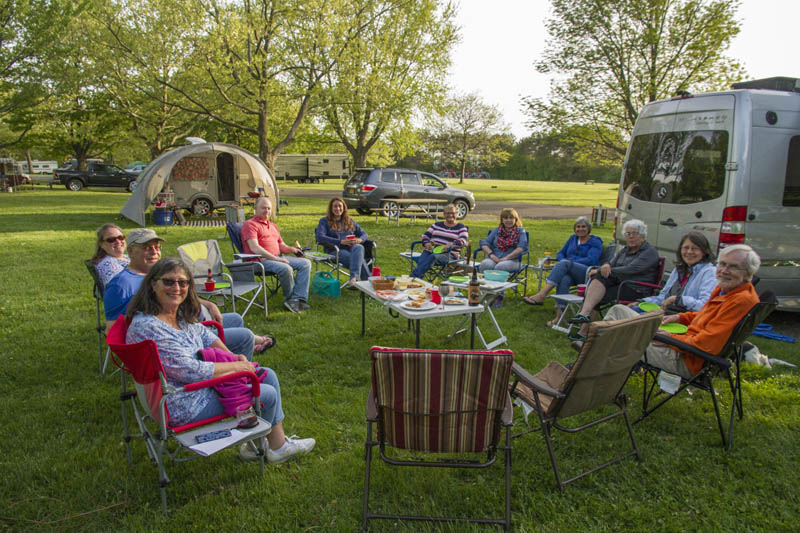 TearUp the Finger Lakes 2020 (May)
Now open for registration! Please be sure you are showing up on the list. If not you can register directly from the event.
This is a slightly smaller gathering (20-30 people) compared to the main June event held over a three day weekend at Sampson State Park. We usually get a group together to do a car pool to various wineries, breweries and cheese/ice cream places nearby on the Saturday and have happy hours and campfires together which is always a blast !
Some campers may arrive a day or two early and/or leave a day or two later.
The campground is very nice and has decent washrooms / showers right in our Loop. It will be farily quiet at this time of the year. All our sites have electric and water and are quite level. We should be able to keep everyone close together. Many wineries are just a short drive ride right from the campground!
For shoppers there is the Waterloo Outlet Mall about 15 minutes north of the campground
Dates: Thu May 7 - Sun May 10, 2020
Suggest Sites: Loop 2 (Sites 73-89)
Activities: Socializing, Biking, Wine Tours (Saturday wine tours by car pooling), Campfires
Schedule of Events: We will be pretty loosey-goosey. Group campfires, happy hours and socializing. Saturday will be the day we car pool to local wineries.
Items to Bring: bike (if you have one), wine glasses!
List of All 30 Campers That Went
| Participant Name(s) | Site# | Dates | From | Equipment |
| --- | --- | --- | --- | --- |
| Mary Thuma | walkup | May 8-10 | Cooperstown, New York | T@BU |
| Bethany and Brock Langdoc | 71 | May 7-10 | Rotterdam, NY | PopUp |
| Tim and Heather Castle | 73 | May 7-10 | Niskayuna | NuCamp T@B 320 |
| Lawrence Knoble | 75 | May 7-11 | Baldwinsville, New York | 24' Lance |
| Pete and Sue Hyslop | 76 | May 6-10 | Elkton, Maryland | Lance 1575 |
| Louise & Randy Finley | 77 | May 7-10 | Coxsackie, New York | Grand Design Reflection |
| Greg & Marlene Fagen | 78 | May 7-10 | Fairport, New York | Cougar travel trailer 26RKS |
| Gail & Tom | 79 | May 6-10 | Wilmington, New York | Lance 1685 |
| Mark & Gretchen Dwyer | 80 | May 7-10 | Chittenango, New York | T@B |
| Lauren Frazer | 82 | May 8-10 | Corning, New York | 5 x 10 teardrop |
| Paul LaHaise | 83 | May 7-10 | Carleton Place, Ontario | Homebuilt 4X8 |
| April & Dan Speed | 84 | May 7-10 | East Greenbush, New York | 1971 13 foot Scotty |
| Dave & Kate McGrath (Hosts) | 85 | May 7-10 | Ottawa, Ontario | 1976 Scotty Cabin Cruiser Reno |
| Douglas Smith | 86 | May 6-12 | Rensselaer, New York | T@G Boondock XL |
| Ellen Zadoff | 87 | May 7-10 | Everywhere | Alto |
| Nadine Corrigan | 88 | May 7-10 | Remsen, New York | Yellow T@G |
| John & Christine Stanford | 89 | May 7-10 | Rochester | T@B Max S |
| Rosemary Yanson | 90 | May 7-10 | Schoharie, New York | Little Guy Max |
| John Brickley | 94 | May 8-10 | Gilbertsville NY | 14' Goldstar 1968 |