TearUp Events - TearUp the Adirondacks 2024 (June)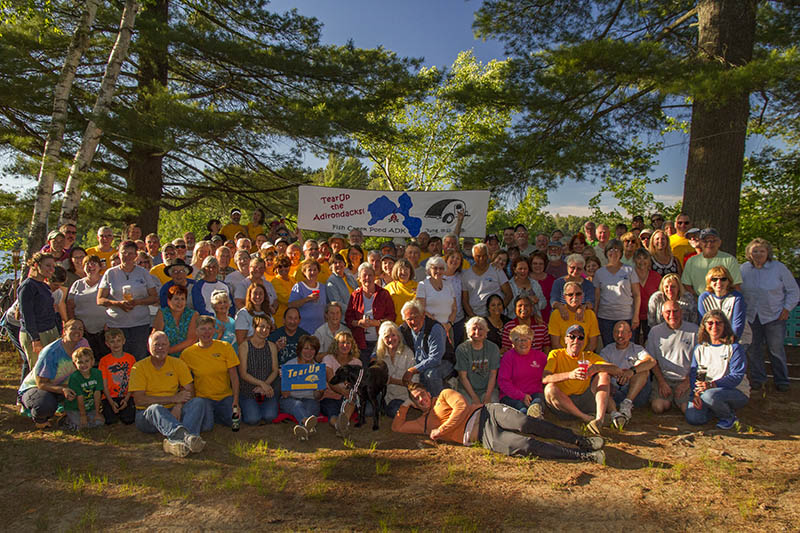 TearUp the Adirondacks 2024 (June)
Open for reservations shortly! Please be sure you are showing up on the list once you have reserved a site. If not you can register directly from the event page.
This is our BIG event and the one that started it all! We started the first TearUp the Adirondacks event at Fish Creek Pond Campground back in 2005 with just a few of us. It has since grow every year with 134 campers attending the event in 2019 !
This is one if not the most popular campground in New York State for those that love camping smack lakeside on an Adirondack Lake. All sites chosen for this event are directly by the water.
The highlights of this event are the Friday night beer tasting and pizza evening, the Saturday group paddle and the Saturday night wine and cheese/steal-a-gift evening and campfire. As well for those staying over Sunday night there will be a farewell campfire with music (we have several campers that bring guitars or other musical instruments).
Dates: Thu June 6 - Sun June 9, 2024
Suggest Sites: Sites 180-295
Activities: Socializing, Kayaking, Biking, Beer Tasting, Wine and Cheese / Steal a Gift Evening, Fairwell Evening with Music
Items to Bring: bikes, kayaks (you can rent if need be), a few different beers to share for beer tasting night on Friday, bottle of wine and snacks / cheese plater for the Wine and Cheese on Saturday night, musical instrument for the Sunday night fairwell campfire if you wish.
Campers Going (so far):
37
Have you booked your site with the campground? If so Register your site with us !
Do you need to make changes or cancel your site on the TearUp site? If so email dave@campadk.com and I can take care of that. Note this is for your registration on this site. We have nothing to do with the reservations you actually make with the campground!
Be sure to join our TearUp Facebook Group for questions and to join in on the discussions.
Check out all our other events !
List of All 37 Campers Going So Far (print)
| Participant Name(s) | Site# | Dates | From | Equipment |
| --- | --- | --- | --- | --- |
| Jeanne & Robert Coad | 181 | Jun 5-10 | Oswego, New York | Cougar camper/trailer |
| Peter & Cathy Van Pelt | 209 | May 27-Jun 10 | Climax, NY | 19cb Airstream |
| Henrietta and John Foster | 212 | Jun 4-10 | Rochester NY | 2016 T@B |
| Mike & Susan Tavano | 217 | Jun 4-10 | North Tonawanda, NY | 15' Campfire by Sierra travel trailer |
| Bonnie Wilkins | 226 | Jun 5-14 | Almond, NY | Keystone Passport 23' |
| Shannon McMahon | 227 | Jun 5-9 | Almond, NY | Rustic Trail Papa Bear |
| Alana & Tom Buscher | 232 | Jun 6-9 | Greenville, NY | 2014 Yellow Tab |
| April & Dan Speed | 233 | Jun 3-10 | East Greenbush NY | 1967 15 ft Serro Scotty |
| Dave & Kate | 235 | Jun 6-10 | Ottawa, Ontario | 1976 13ft Scotty Sportsman Reno (Cabin Cruiser) |
| Douglas Smith | 239 | May 28-Jun 11 | Rensselaer, N.Y. | T@B ccs or T@Gxl |
| Tom bradshaw, gail Mitchell | 240 | Jun 5-Oct 1 | Wilmington ny | Lance 1685 |
| Larry & Lynda Knoble | 247 | Jun 4-11 | Baldwinsville, NY | 24' Lance |
| Ken & Pat Schultheis | 251 | Jun 4-10 | Valencia Pa | Escape 19 |
| Rich and Val Ulmes | 253 | Jun 4-10 | Findlay, OH | Winnebago Winnie Drop |
| Chuck & June Hagan | 254 | Jun 4-10 | Lexington, Ohio | NuCamp T@B 320 Boondock |
| Chuck and Barb Porter | 255 | Jun 4-Dec 31 | Medina, Ohio | Cargo Conversion |
| Nadine Corrigan | 258 | Jun 6-10 | Forestport, New York | Yellow T@G |
| Mark & Gretchen Dwyer w/Finley | 260 | Jun 5-10 | Chittenango, NY | T@B 320CS |
| PHIL & DONYCE DeROBERTS | 264 | Jun 5-10 | CARMEL NY | TAB 320-CSS |
| Cindy Yourdon | 265 | Jun 7-10 | Keeseville NY | Jayco Jayflight SLX 195 RB. 20' |