TearUp Events - TearDown the Adirondacks 2023 (September)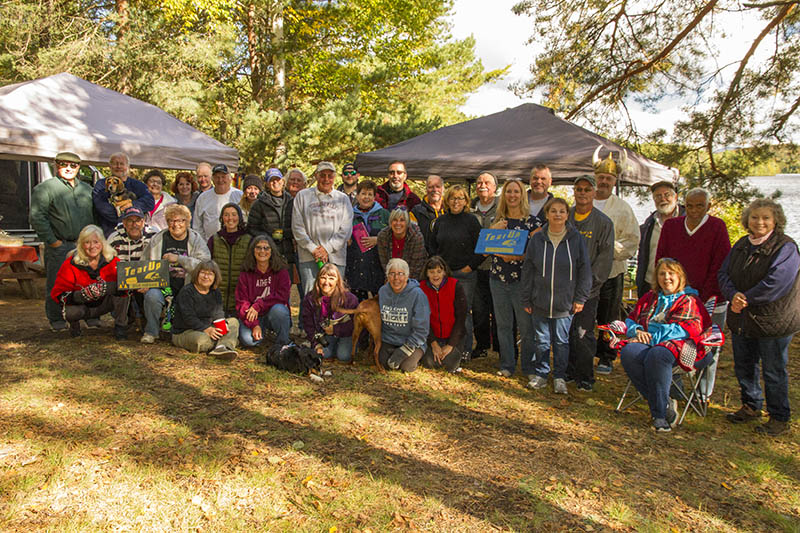 TearDown the Adirondacks 2023 (September)
Now open for reservations! Please be sure you are showing up on the list once you have reserved a site. If not you can register directly from the event page.
This is a slightly smaller gathering (50-70 people) compared to the main June event held over a three day weekend at Fish Creek Pond Campground. We usually get a group together to paddle on the Saturday and have an early evening pot luck which is always a blast ! Pot luck starts at 5:30pm on Saturday on site 104. Bring a small dish or snacks along with your own drinks and cutlery.
Dates: Thu Sep 28 - Sun Oct 1, 2023
Suggest Sites: Sites 78-128
Activities: Socializing, Kayaking, Biking, Happy Hour and Campfires. Swimming is still possible for the brave soles. Hopefully Nadine will have her book library open as well!
Items to Bring: bike, kayak, something for the Saturday night happy hour (snack plate and refreshment).
Campers Going (so far):
47
Have you booked your site with the campground? If so Register your site with us !
Do you need to make changes or cancel your site on the TearUp site? If so email dave@campadk.com and I can take care of that. Note this is for your registration on this site. We have nothing to do with the reservations you actually make with the campground!
Be sure to join our TearUp Facebook Group for questions and to join in on the discussions.
Check out all our other events !
List of All 47 Campers Going So Far (print)
| Participant Name(s) | Site# | Dates | From | Equipment |
| --- | --- | --- | --- | --- |
| Elaine & Fred | 000 | Sep 30-Oct 1 | Catskill Mts., NY | Motel Tupper Lake |
| Ted & Janice Machowski | AO21 | Sep 24-Oct 1 | Remsen, NY | Mallard Tow Behind |
| Ken & Ellen Howard | 29 | Sep 27-Oct 2 | Masonville, NY | 28' Keystone 22MLS Cougar |
| Tom Bradshaw, Gail Mitchell | 52 | Sep 27-Oct 2 | Wilmington, NY | Lance 1685 |
| Cindy & Brian Yourdon | 69 | Sep 29-Oct 2 | Keeseville NY | Jayco 195RB. 20' |
| John & Shawn Balio | 75 | Sep 24-Oct 1 | Old Forge, NY | Imagine 22 foot |
| Shannon McMahon | 90 | Sep 27-22 | Almond | Rusric trail |
| Regina Losinger | 91 | Sep 28-Oct 2 | Binghamton, NY | InTech Sol Dawn Rover |
| John and Cindy Dzioba | 94 | Sep 24-Oct 1 | Cazenivia, NY | T@B 400 |
| Morris Stilson | 95 | Sep 28-Oct 1 | Schenectady,NY | Vintage Overland |
| Douglas Smith | 98 | Sep 28-Oct 2 | Rensselaer, NY | T@G xL or T@B ccs |
| Rosemary Yanson | 99 | Sep 28-Oct 3 | Schoharie, NY | Little Guy Max |
| Bonnie Wilkins | 100 | Sep 26-Oct 6 | Almond, NY | Keystone Passport |
| Catharine and Paul | 101 | Sep 24-Oct 1 | Port Elmsley, Ontario | 22' Airstream |
| Mark, Gretchen and Finley Dwyer | 102 | Sep 27-Oct 2 | Chittenango, NY | T@B 320CS |
| April & Dan Speed | 103 | Sep 25-Oct 1 | East Greenbush NY | 1967 Serro Scotty 15 foot "Amelia Lynne" |
| Dave & Kate McGrath (Hosts) | 104 | Sep 28-Oct 1 | Ottawa, Ontario | 1976 Scotty Sportsman Reno (Cabin Cruiser) |
| Ray & Stacy Finney | 105 | Sep 24-Oct 1 | Liverpool, NY | 10' Homebuilt Teardrop |
| Larry & Lynda Knoble | 106 | Sep 25-Oct 2 | Baldwinsville, NY | 24ft Lance |
| Henrietta and John Foster | 107 | Sep 28-Oct 2 | Rochester, NY | 2016 T@B |
| Tom & Alana Buscher | 108 | Sep 28-Oct 1 | Greenville, NY | 2014 Yellow Tab |
| Michael & Marilyn McCabe | 109 | Sep 28-Oct 1 | Chittenango, NY | Trailer 30' Rockwood |
| Rodger and Nancy Dempster | 113 | Sep 28-Oct 2 | Saranac Lake, NY | Runaway Rangerunnr |
| Dale & Kim Amond/Sandra Bird | 115 | Sep 28-Oct 1 | Liverpool, NY | 20' Starcraft & a tent |
| Robert & Jeanne Coad | 120 | Sep 26-Oct 3 | Oswego, NY | 35 ft. V Nose Trailer |
| Nadine Corrigan | 122 | Sep 28-Oct 2 | Forestport, NY | Yellow T@G |