TearUp Events - TearUp the Adirondacks 2021 (June)
CANCELLED
Due to COVID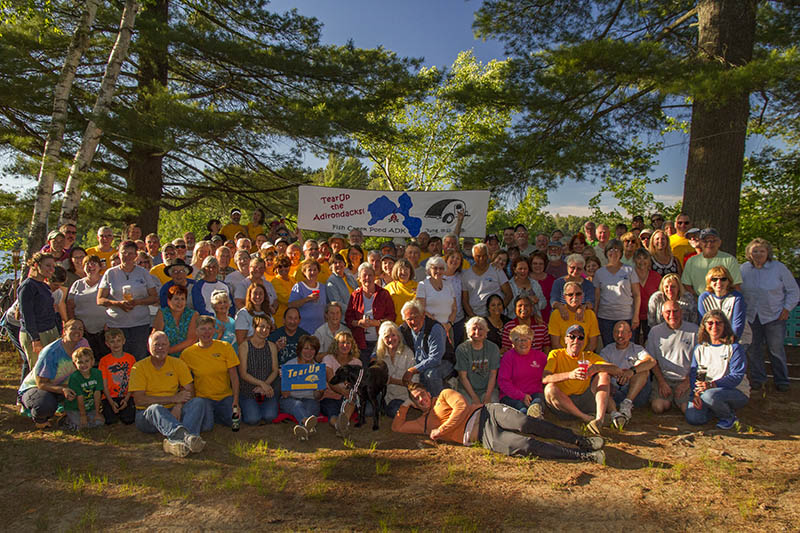 TearUp the Adirondacks 2021 (June)
Now open for registration! Please be sure you are showing up on the list. If not you can register directly from the event.
This is our BIG event and the one that started it all! We started the first TearUp the Adirondacks event at Fish Creek Pond Campground back in 2005 with just a few of us. It has since grow every year with 134 campers attending the event in 2019 !
This is one if not the most popular campground in New York State for those that love camping smack lakeside on an Adirondack Lake. All sites chosen for this event are directly by the water.
The highlights of this event are the Friday night beer tasting and pizza evening, the Saturday group paddle and the Saturday night wine and cheese/steal-a-gift evening and campfire. As well for those staying over Sunday night there will be a farewell campfire with music (we have several campers that bring guitars or other musical instruments).
Dates: Thu June 10 - Mon June 14, 2021
Suggest Sites: Sites 180-295
Activities: Socializing, Kayaking, Biking, Beer Tasting, Wine and Cheese / Steal a Gift Evening, Fairwell Evening with Music
Schedule of Events: coming soon!
Items to Bring: bikes, kayaks (you can rent if need be), a few different beers to share for beer tasting night on Friday, bottle of wine and snacks / cheese plater for the Wine and Cheese on Saturday night, musical instrument for the Sunday night fairwell campfire if you wish.
List of All 79 Campers That Went
| Participant Name(s) | Site# | Dates | From | Equipment |
| --- | --- | --- | --- | --- |
| Mary Thuma | 184 | Jun 11-14 | Cooperstown | T@b 320 U |
| Susan Bechhoefer | 187 | Jun 9-13 | Cornwall, Vermont | Rpod |
| Dan and Adrienne Ladd | 195 | Jun 11-14 | Fort Ann, NY | R-Pod 179 |
| Ellen Zasoff | 198 | Jun 10-14 | St Petersburg florida | Alto safari condo |
| Robert & Jeanne Coad | 210 | Jun 10-15 | Oswego,NY | 35 ft. V Nose Trailer |
| Diane DeRoy and Robert LaChapelle | 213 | Jun 10-15 | Cromwell, CT | 17' Casita |
| Terry Sunderlin and Carol Pries | 214 | Jun 10-15 | Palmyra NY | Scamp |
| Sue & Bob Martin | 216 | Jun 10-15 | Richfield Springs NY | 34' Jayco camper |
| lorianne simon | 219 | Jun 10-14 | Arlington, VT | 1959 metzendorf |
| Nadine Corrigan | 220 | Jun 9-15 | Remsen, NY | Yellow T@G |
| John and Henrietta Foster | 221 | Jun 8-14 | Rochester NY | 2016 T@B Trailer |
| Mike and Renee Garrett | 222 | Jun 10-14 | Forestville, NY | T@B |
| Frank Healy | 224 | Jun 8-14 | Shrub Oak NY | Home Built 6X8 |
| Lawrence Knoble | 225 | Jun 10-14 | Baldwinsville, NY | 24' Lance |
| Mark and Pat Copen | 227 | Jun 8-15 | Smyrna, TN | RPod 180 |
| Anita Stuart | 228 | May 8-15 | Ontario | Little Guy Rascal |
| John Lynne and Andrew Gardner | 232 | Jun 10-Feb 14 | Rochester, NY | Red Vardo |
| Mark Boncek | 233 | Jun 10-14 | Claryville NY | 6 by 10 teardrop (homebuilt) |
| Ray & Stacy Finney | 234 | Jun 11-14 | Liverpool, NY | 5x10 custom trailer |
| Dave & Kate McGrath (Hosts) | 235 | Jun 10-14 | Ottawa, Ontario | 1976 Scotty Sportsman Reno (Cabin Cruiser) |
| Tom & Alana Buscher | 237 | Jun 10-14 | Greenville NY | 2014 Yellow Tab |
| Mike French and Elizabeh Williams | 238 | Jun 10-14 | Nelson, NH | 5X10 Homebuilt |
| Rick and Chris Frazer | 240 | Jun 10-13 | Troy, NY | Truck camper |
| Lauren, Barb, and Jim Frazer | 241 | Jun 10-13 | Corning NY | 5 x 10 trailer and tent |
| Douglas | 242 | Jun 7-16 | Rensselaer,NY | T@G Teardrop |
| April and Dan Speed | 243 | Jun 10-13 | East Greenbush | 1971 13 foot Scotty |
| Timothy and Tonya Houlihan | 245 | Jun 9-14 | Castile ny | 5x8 home built |
| Ruth Erdmann | 246 | Jun 7-14 | Fairport, NY | Scotty |
| ELAINE & FRED | 248 | Jun 10-14 | Catskill Mts. | East Coast Teardrop & Tent |
| Louise & Randy Finley | 250 | Jun 9-15 | Coxsackie, NY | 38' Home Built |
| tom bradshaw, Gail Mitchell | 251 | Jun 9-13 | Wilmington,ny | Lance 1685 trailer |
| Bonnie Wilkins | 253 | Jun 8-18 | Almond, NY | Keystone Passport 199ML |
| Shannon McMahon | 254 | Jun 10-14 | Alma,NY | Rustic Teardrop Papa Bear |
| Julia Lennon | 258 | Jun 10-May 15 | Nelson, NH | Home made Tear Drop |
| Rodger and Nancy Dempster | 259 | Jun 10-13 | Saranac Lake | Runaway Rangerunner |
| Kevin & Becky Benjamin | 260 | Jun 11-13 | Vestal NY | Little Guy 6x10 Silver Shadow Teardrop |
| Mark and Gretchen Dwyer | 261 | Jun 9-14 | Chittenango, NY | T@B |
| Bob and Melissa Herson | 262 | Jun 10-13 | Caledonia NY | T@B 320 |
| Peter Lewis and Peggy VanEpps | 267 | Jun 10-14 | Amsterdam, NY | 2012 Silver Shadow Teardrop |
| Jeff & Maria Joy | 273 | Jun 5-13 | My Office | 22' Shinny Aluminum Joy Mobile |
| Jim and Sandy | 278 | Jun 10-14 | North Brookfield, NY | 1978 Wilderness |
| Peter Lewis and Mary Ellen Bates | 280 | Jun 9-13 | Amsterdam, NY | Silver Shadow |
| Kim & Randy Sixberry | 284 | Jun 11-14 | Potsdam, NY | Tab 400 |
| Mike & Lynn Lewis | 291 | Jun 9-13 | Gloversville, NY | 5x10 Tag |