TearUp Events - TearDown the Adirondacks 2022 (September)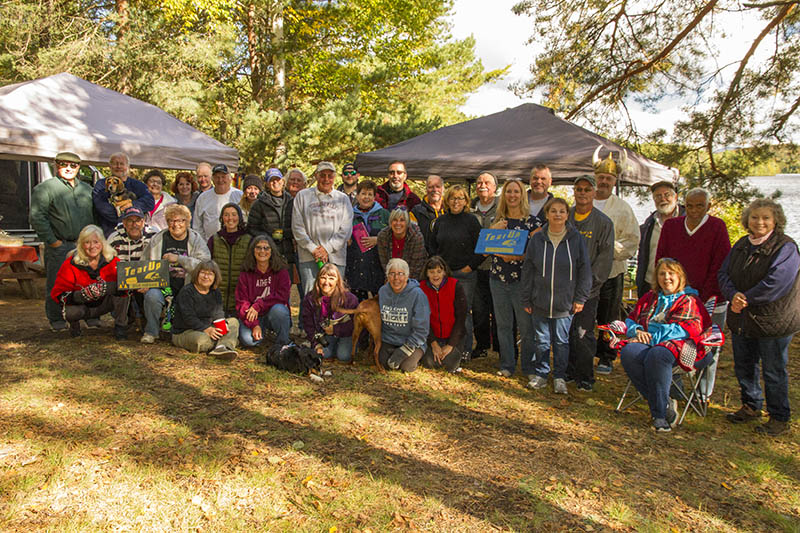 TearDown the Adirondacks 2022 (September)
Now open for reservations! Please be sure you are showing up on the list once you have reserved a site. If not you can register directly from the event page.
This is a slightly smaller gathering (50-70 people) compared to the main June event held over a three day weekend at Fish Creek Pond Campground. We usually get a group together to paddle on the Saturday and have an early evening pot luck which is always a blast ! Pot luck starts at 5:30pm on Saturday on site 104. Bring a small dish or snacks along with your own drinks and cutlery.
Dates: Thu Sep 29 - Sun Oct 2, 2022
Suggest Sites: Sites 78-128
Activities: Socializing, Kayaking, Biking, Happy Hour and Campfires. Swimming is still possible for the brave soles. Hopefully Nadine will have her book library open as well!
Items to Bring: bike, kayak, something for the Saturday night happy hour (snack plate and refreshment).
List of All 55 Campers That Went
| Participant Name(s) | Site# | Dates | From | Equipment |
| --- | --- | --- | --- | --- |
| Terry Sunderlin | 13 | Sep 29-Oct 4 | Palmyra, NY | Scamp |
| Bonnie Wilkins | 24 | Sep 29-Oct 7 | Almond, NY | Keystone Passport |
| Rich & Betty Filkins | 34 | Sep 5-Oct 2 | Westerlo, NY | Motor home |
| Tom Bradshaw, Gail Mitchell | 39 | Jun 27-27 | Wilmington, NY | Lance 1785 |
| Ellen and Ken Howard | 58 | Sep 28-Oct 3 | Masonville, NY | 5 Wide Little Guy |
| Susan & Bob Martin | 62 | Sep 29-Oct 3 | Richfield Springs, NY | Bob & Jeanne's trailer |
| Bob & Jeanne Coad | 62 | Sep 29-Oct 3 | Oswego, NY | 35 ft. V Nose Trailer |
| Shannon McMahon | 65 | Sep 29-Oct 7 | Almond, NY | Rustic Trail Papa Bear |
| Elaine & Fred | 75 | Sep 29-Oct 1 | Catskill Mts., NY | Large Tent |
| Glenn & Kathy Larish | 80 | Sep 30-22 | Westmoreland, NY | Tab 400 |
| Tom & Alana Buscher | 92 | Sep 29-Oct 2 | Greenville, NY | 2014 Yellow Tab |
| John and Lynne Gardner | 95 | Sep 22-Oct 2 | Brockport, NY | Teardrop |
| Morris Stilson | 96 | Sep 29-Oct 3 | Schenectady, NY | Teardrop |
| Mark and Gretchen Dwyer w/Finley | 99 | Sep 29-Oct 3 | Chittenango, NY | T@B 320CS |
| Paul and Trish Gerhardt | 100 | Jul 29-Oct 7 | Centreville, Maryland | 16' Airstream |
| Catharine and Paul | 101 | Sep 24-Oct 2 | Beckwith, Ontario | 22' Airstream |
| Larry & Lynda Knoblei81 | 102 | Sep 28-Oct 3 | Baldwinsville, NY | 24 ft Lance |
| April & Dan Speed | 103 | Sep 29-Oct 2 | East Greenbush, NY | 1971 13 foot Scotty |
| Dave & Kate McGrath (Hosts) | 104 | Sep 29-Oct 2 | Ottawa, Ontario | 1976 Scotty Sportsman Reno (Cabin Cruiser) |
| Chris & Cathi Brewer | 107 | Sep 29-Oct 2 | Vernon, NY | T@B 320S |
| Lindsay and Richard Stroh | 108 | Sep 29-Oct 3 | Cazenovia, NY | Travel Trailer - Salem Lite 17rbxl |
| Nadine Corrigan | 109 | Sep 29-Oct 3 | Forestport, NY | Yellow T@G |
| Rodger and Nancy Dempster | 112 | Sep 29-Oct 3 | Saranac Lake, NY | Runaway Rangerunner |
| Dale, Kim and Sandra Amond | 114 | Sep 29-Oct 2 | Liverpool, NY | 20' Starcraft Autumn Ridge |
| Meg & Dan | 115 | Sep 29-Oct 2 | Montreal, Quebec | Teardrop like trailer |
| Joe & Donna Aquilino | 116 | Sep 29-Oct 3 | Webster, NY | '22 Alto F1743 |
| John and Cindy Dzioba | 122 | Sep 25-Oct 3 | Cazenovia, NY | T@B 400 |
| Peter A Lewis and Mary Ellen Bates | 125 | Sep 28-Oct 2 | Amsterdam, NY | Silver Shadow |
| Ray & Stacy Finney | 127 | Sep 30-Oct 2 | Liverpool, NY | 10' Homebuilt Teardrop |